BH6007 Psychology for Business
2019-09-20
1

Module Guide 2019-20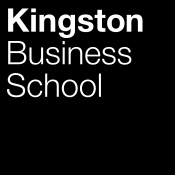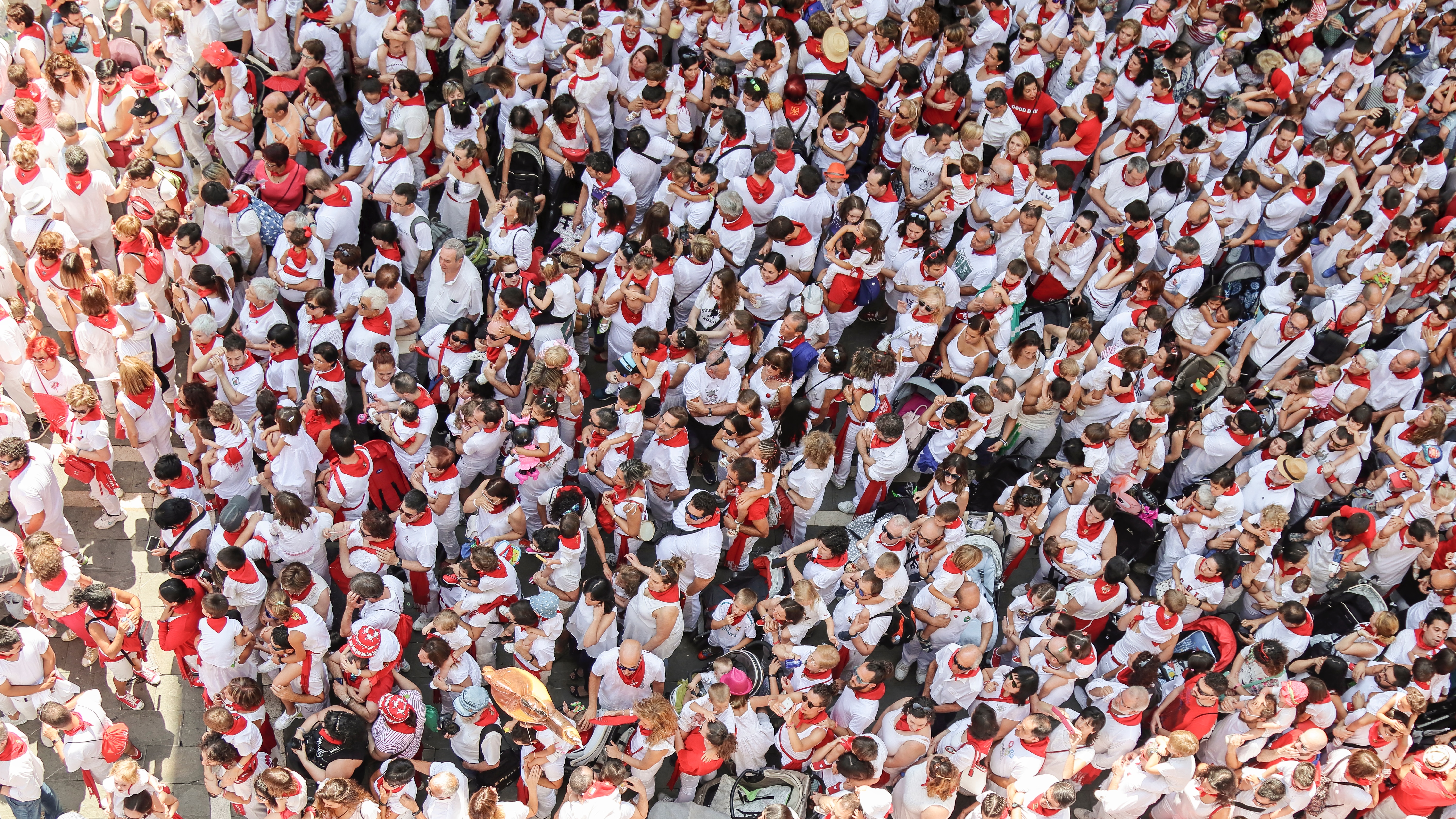 1.1

Contact details

Module leader: Prof Gaëlle Vallée-Tourangeau

Short biography: Prof Vallée-Tourangeau received her PhD from the University of Hertforshire in 2002 and is currently Professor of Behavioural Science at Kingston University. She also received an MSc in experimental social psychology and a BSc in Psychology from the University of Paris Ouest Nanterre. She is interested in the role played by interactivity in human cognitive performance at work.

Email g.vallee-tourangeau@kingston.ac.uk | Telephone 020 8417 7489 | Room BS3012 | Teaching week office hours Typically MON 4-5 and TUE 2-4; Book meetings via https://calendly.com/profgaelle | Website http://profgaelle.com
Other important contacts
Course administrators Kingston Business School Student Office | Email businessug@kingston.ac.uk | Telephone 020 8417 5627 | Room BS007
1.2

Timetabled Teaching
| Day | Activity | Time | Room |
| --- | --- | --- | --- |
| Monday | Lecture | 2-3 | KHBS3035 |
| Monday | Workshop | 3-5 | KHBS3035 |
Accessing your timetable
You can access your timetable via:
1.3

Module Summary

In Psychology for Business, you will learn to apply knowledge of psychological principles to the world of business and work. We will explores how psychology can shed light on real-world business issues such as personality and individual differences, motivation, goal-setting and work performance, time perspective, judgment and decision-making, nudging and behaviour change, the psychology of lying, and the role human emotions in decisions.

This module will take an academic-practitioner approach to examining the key psychology topics relevant to business and management. You will not only become more knowledgeable about these topics, you will also be introduced to skills and concepts required to become adept consumers of applied psychological research and learn to appreciate which psychological claims are likely to be true or false.

Being able to interpret published psychological research with a critical eye will give you a key advantage in your future career and life. You will be able to make informed decisions about which strategy will be most effective to address behavioural issues, whether it is improving productivity, human interactions, or decision-making.

To make the most of this module, you should be interested in expanding your understanding of people and wish to keep abreast of modern theories of human behaviour relevant for business and management contexts, and will be keen to apply this knowledge in practical settings. On completion of the module, students who wish to continue to explore the topics reviewed in the module may consider registering for the MSc in Occupational and Business Psychology offered by Kingston Business School or the MSc in Behavioural Decision Sciences offered by the Department of Psychology in the Kingston School of Law, Social and Behavioural Sciences.
Module Aims
To introduce students to the to the core topics and current trends relevant to the specialist area of Business Psychology,
To introduce students to the skills and knowledge necessary to apply and communicate the science of psychology to people at work.
To develop students' ability to critically evaluate and reflect on how theory and evidence can be used to increase the effectiveness of the organisations and improve the job satisfaction of individuals
Learning Outcomes
On successful completion of the module, you will be able to:
To identify key theories and approaches across four key domain areas in Business Psychology,
To illustrate the role of diversity, gender and cultural influences in achieving fairness in the workplace
To make good use of quality research to inform evidence-based management practices,
To adopt a scientist-practitioner focus to connect with various end-users of business psychology research,
To evaluate the reliability, validity, and significance of the latest evidence relevant to Business Psychology,
To synthesize theory and evidence to propose solutions for enhancing the effectiveness of organisations and developing people in the workplace.
1.4

Core Text for the Module

Morling, B. (2018). Research methods in psychology: Evaluating a world of information (3rd International Student edition). W. W. Norton & Company.
Other important texts
Arnold, J., & Randall, R. (2016). Work psychology: Understanding human behaviour in the workplace (6th Edition). Harlow, England: Pearson.
Hardman, D. (2009). Judgment and decision making: Psychological perspectives. Malden, MA: Blackwell Publishing.
Academic journals for the module
1.5

Topics List
Topic List for TB1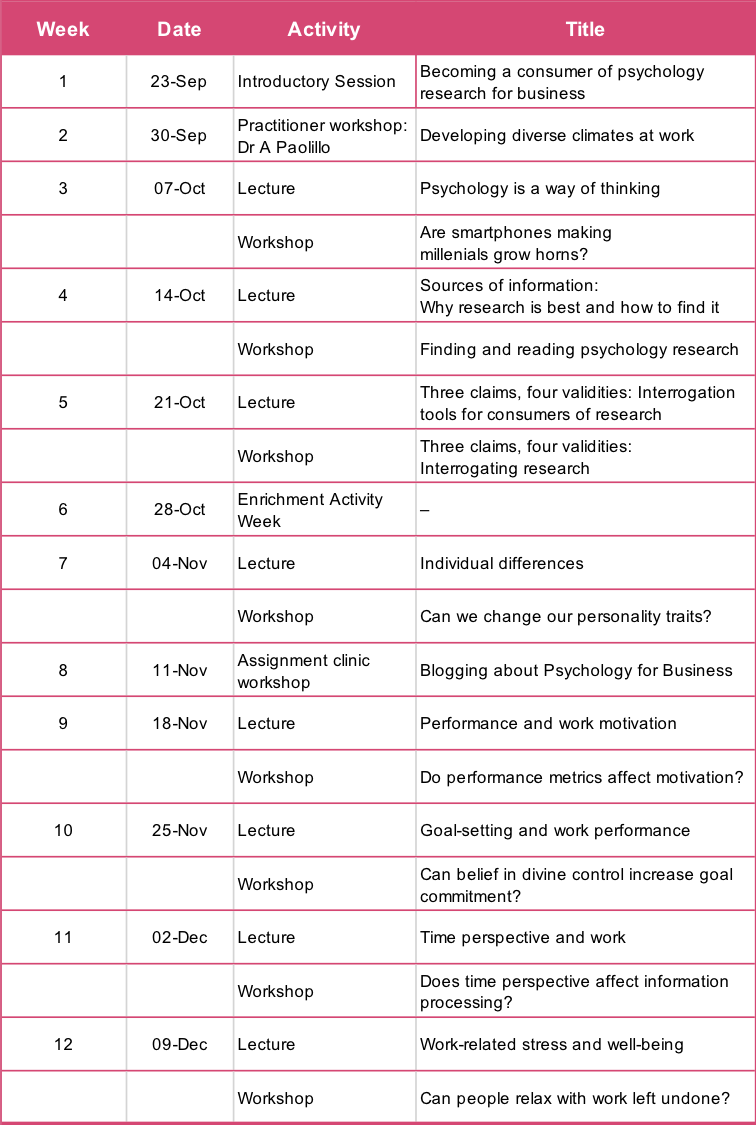 1.6

Reading lists

Depending on the week, you will need to prepare by completing reading for the lectures and/or the workshops. All the readings will inform your first assignment (3 blogs). To succeed on this module, you must complete the readings and come prepared to make the most of your time in class.

All readings will be made available via My Reading List on Canvas.

Each week, you will be invited to click on the Topic schedule ahead of each session to learn more about guided reading activities you should complete before attending that session.
1.7

Assessment strategy
Elements of assessment
| DESCRIPTION OF ASSESSMENT | DEFINITIVE UNISTATS CATEGORIES | PERCENTAGE |
| --- | --- | --- |
| 3 x 300-word blog posts | Coursework | 50% |
| 1500-word briefing report | Coursework | 50% |
| | | 100% |
Achieving a pass
It IS NOT a requirement that any assessment category is passed separately in order to achieve an overall pass for the module.
1.8

Assessments
1.8.1

Coursework for TB1: Blogging

You will write 3 x 300-word Blogs. Each of these blogs will provide a commentary on one of the research articles discussed in the workshops in TB1, using the three claims, four validities framework to assess research claims.

Submission deadline Thursday 16 January 2020, 09:00AM. | Feedback deadline Thursday 06 February 2020, 09:00AM.

For more details on the assessments, including a brief and the assessment criteria, consult the Assessment & Feedback page on the module CANVAS website.
1.8.2

Coursework for TB2: Briefing report

You will write a 1500-word briefing report. The briefing report will summarise the work conducted in the TB2 workshops, and will be comprised of (1) a registered report (750 words) summarising the study you were assigned to replicate during the workshops, including materials, sample size, and analyses as well as (2) a data analysis report (750 words) summarising and discussing the results of your replication study.

Preliminary registered report deadline Monday 03 February 2020, 09:00AM Final briefing report submission deadline Thursday 09 April 2020, 09:00AM. | Feedback deadline Thursday 30 April 2020, 09:00AM.

For more details on the assessments, including a brief and the assessment criteria, consult the Assessment & Feedback page on the module CANVAS website.
1.8.3

Coursework for ERASMUS and Exchange students

Please note that you will be required to complete ONLY the coursework component relevant to your attended teaching block in order to achieve 15 credits for this course. If you attend the module during Teaching Block 1 (TB1, 23 Sept. to 09 Dec. 2019), you will need to complete the Blogging assignment. If you are only attending during Teaching Block 2 (TB2, 06 Jan. to 23 Mar. 2020), you will need to complete the Briefing report assignment. If you are an ERASMUS or exchange student attending both TB1 and TB2 for this module (30 credits) then you will to complete both assignments (i.e. Blogging in TB1 AND the Briefing Report in TB2).
1.8.4

Formative assessment

The content of the workshops and additional exercises on Canvas will be designed around the learning objectives so that you can achieve your full potential as you benefit from explicit formative opportunities for practice and 'feed forward' on each and every element of the summative assessments. First, you will practice skills to critically evaluating research claims and apply those skills to articles reviewed in class. You will also receive oral feedback which will inform their blog write-up. Similarly, in TB2, you will be guided through a series of activities which will feed directly in your briefing report.
1.9

Attendance

Due to the experiential nature of the learning on this programme, and the importance of professional development enabling students to develop practical skills, learn from and interact with others, failure to attend may put you at risk of academic failure. Please note that KU Check In is primarily a project of care and support aimed to identify students who are not engaging fully with their studies and might be at risk of not achieving their potential. In order to enable KU Check In to best support you, please notify KUCheck In (KUCheckIn@kingston.ac.uk) as soon as possible if you are unable to attend due to ill health or any other reason. If you have any concerns about your attendance, please do contact your Personal Tutor in the first instance.
Lateness for class – 'Late' door policy
Arriving on time is an important professional skill to develop. You should always time your journey so that you will arrive early for classes and if you know there is likely to be travel disruption, allow additional time. However, we recognise that sometimes unexpected delays can occur and, in most cases, you will be allowed into class after the work has started, but in a controlled manner to reduce interruption to others. This has been requested by students. Normally, you will be allowed to enter but please do so quietly and do not disturb the other students. Sometimes you will be asked to wait quietly outside until there is a natural break in the session, and then the lecturer will allow the late students to enter in a group. In many cases this will happen 10-15 minutes after class has started, and again 10-15 minutes later (as serious travel disruption can often mean severe delays). In all cases when you are allowed access please enter quietly and take a seat with as little disruption to others as possible.
1.10

Submitting assignments and receiving feedback

Kingston Business School operates a paperless system for the majority of assignments. This has many advantages, particularly for students, and means you can submit your assignment and access your feedback online.

All coursework assignments must be submitted to the module in Canvas before the deadline in your module guide. For the majority of modules there will be no need to supply a hard copy. Your module leader will inform you in advance if you are required to submit a hard copy, for example for review or peer marking in class. Dissertations and projects do normally require both online and hard copy submission as the hard copy presentation is linked to the learning outcomes.

Assignments should be submitted in Word unless you are told otherwise. Do not write your name on the assignment as most of our courses use anonymous marking, facilitated by the Canvas system. Remember to check the marking guidelines when preparing your assignment, and also to ensure you use your own words, and reference properly. See sections below regarding referencing, plagiarism, and academic misconduct. Please note all assignments are automatically submitted to the Turnitin plagiarism detection software – the video on the following link is an approachable session on how to avoid plagiarism: http://www.youtube.com/watch?v=1yYf8AihndI

If you are unable to submit to Canvas due to technical problems, please email the assignment, by the deadline, to the course administrator. If the Canvas system itself is down there will normally be an extension to the deadline, please check online. Please only email to the administrator if there are genuine problems with the system, not as a default – our administrators will be checking whether there have been genuine problems and can refuse to accept email versions.

Remember to always keep a back-up of your assignment, and your working documents, just in case of problems.

Most of these 'paperless' assignments will be marked online and you will receive feedback online through Canvas. Some assignments (such as dissertations) will be submitted on paper and feedback will be given online. In a small number of assignments where online feedback is not possible feedback may be given on printed copies – your module leader will let you know which system they are using and how you will receive the detailed feedback.

At the start of your module you will receive details of the hand-in dates and the latest date at which you can expect to receive feedback, usually a maximum of 20 working days. Please ensure that you read your feedback carefully, not just your mark. Feedback is designed to help you with future work, including on other modules. If you are unsure about how to make the most of your feedback on a particular assignment, ask to see the module leader. If you are still unsure, or feel you are not making improvements across a range of modules, discuss this with your personal tutor.

You upload your work in Canvas via the following process:
Click on the tile for the Canvas module where the work is to be submitted and select the Assignments menu item
Tap on the assignment name
Tap on the Submit Assignment button
Click on the Choose File button and use the dialog box that pops up to find the file to be uploaded
Tick the box that indicates that the work is your own, original work
Click the Submit assignment button
For the majority of work you receive your feedback via the following process:
Click on the tile for the Canvas module where the work was submitted and select the Assignments menu item
Tap on the assignment from the list shown
Use the View feedback link to the right of the submitted coursework
1.12

BLASC: Business Law Academic Skills Centre

Improve your writing – and your marks!
What is BLASC?
BLASC is a drop-in service offering students at all levels one-to-one help and advice on the academic skills needed to produce their written coursework. We are staffed by both academics and trained final year students.
Where is it and when is it open?
BLASC is on the First Floor of the Nightingale Centre (LRC) in the Academic Skills section and is open Monday to Friday from mid-October until the end of the academic year (times vary during non-teaching weeks). At other times BLASC runs on an appointment basis.
What help can I get?
We offer feedback on all aspects of academic writing, excluding subject specific content. In particular, we help with grammar, academic structure, referencing and avoiding plagiarism. Just bring along a printed draft of your work - not your laptop.
When should I visit?
ASAP! We look at work from its earliest stages (or even just help analyse the assignment brief). If you visit at the last minute, there may be a queue and you will be allocated a shorter slot than at less busy times. Please note: BLASC's aim is to help you improve and develop your academic writing; it is not a proof-reading service.
Will BLASC make a difference?
Definitely! Research demonstrates that students who regularly use the University's writing centres improve their marks by an average of one grade.
What other help can I get with my academic writing?
The Academic Writing Canvas site contains a series of straightforward writing guides to help you through your assignments. If you aren't automatically enrolled on it, join the site either through My Kingston>Academic Success Centres>BLASC, or click here to enroll.
There are plenty of excellent books in the LRC Academic Skills section
The University also subscribes to Skills4studycampus, an interactive platform to help further develop your learning.
The LRC Discover desk, also on the first floor of the LRC, offers advice on how to search for sources and reference your work.
For further information, please contact Reica Gray: r.gray@kingston.ac.uk.
1.13

What now?

Well done for reading thus far! You now have a general idea of what the module will entail. Next, you should find your way around the Canvas site for this module:

https://canvas.kingston.ac.uk/courses/13357/pages/home-page-2019-20

You could check the module schedule to see the upcoming topics. At the end of each session, the topic for the next session will become clickable. Visit it so you can see what activities you need to complete before the next session. The activities have been designed to increase in difficulty as we move through the module. Don't worry if something is unclear, come to class and we can discuss further.